MLM Gateway

What is MLM Gateway?
MLM Gateway connects those who are involved in network marketing, providing home-based business leads.
By contacting other members and presenting them the home based business they work in, MLM Gateway users create effective lead generation.
This results in a rapidly growing network of business leaders in the network marketing program structure.
Since  members already have experience with network marketing, it's far easier to establish a partnership with them.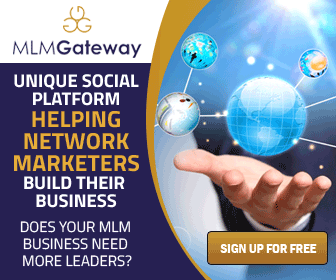 We encourage you to recommend this website to your downline, so they also recruit new leaders.
You then accelerate your network marketing business even faster! Use our simple form to invite your team when you log in.
What MLM Gateway is not?
It is not an ordinary database of e-mail addresses intended to spam other users with offers of MLM programs.
Nor do we sell our members' email addresses or phone numbers. Every member may choose to whom he gives his contact information.
What do I get if I sign up?
After successfully signing up, you gain access to the list of network marketing leads. You can choose whoever you want to contact and send them a partnership request.
This has members all over the world so it doesn't matter if you are looking for free network marketing leads from the United States, Australia, Germany or South Africa. You are in the right place.
Supplemental: You can join as a free members and gain credits to contact other home based business owners or you can upgrade for just $25! That's a steal. You would be ill advised not to grab that whilst you can. The more people you refer to the site the more referral credits you will build up and the more people you can contact.
It's win win! are you waiting for ?